The Associate
My grandmother and I have passed along several book recommendations to each other, sometimes lending the other books we've just finished reading. Here, I'll review a book she recently recommended to me.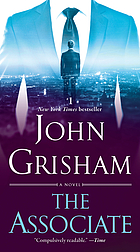 "The Associate" by John Grisham is the story of Kyle McAvoy, who, against his will takes a job as an associate at a Wall Street law firm after being threatened by mysterious men who have an incriminating video of him.
I really didn't care about this book for the first 250 pages. McAvoy is accused of allowing a girl to be raped, which are really serious allegations that I don't think he should be blackmailed into avoiding. I was angry at the main character and didn't care about what trouble he might be running into -- until the mysterious men take the threat a step to far and bad things really start happening. The last 200 pages got me actually invested in McAvoy and his attempt to catch the bad guys who were trying to get him to violate his personal and professional ethics by stealing from his firm. Another major complaint I had about the book was that it took about 100 pages for McAvoy to decide he was going to do what the bad guys wanted him to -- even though that is the point of the book. Seriously, nearly 25 percent of the way through the book for the main character to decide that he is going to do what you already know he is going to do? I can't believe I kept reading after that.
Overall, Grandma, the second half was better than the first. I would have liked to hear more about McAvoy's actions to try to keep the bad guys at bay, but then again, watching the plot unfold without knowing what was going to happen was all right, too.
-- Cheryl Sadler
CSadler@News-Herald.com
Labels: John Grisham, recommendations from Grandma, suspense