One day until Sweet Valley Confidential!
The moment we have been waiting for is (almost) finally here!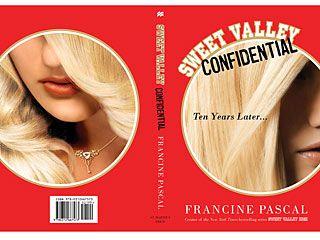 Less than one day until
"Sweet Valley Confidential: Ten Years Later"
is on bookstore shelves!
Since July, we have been anticipating the release of "Sweet Valley Confidential," the new book by
Francine Pascal
, creator of the Sweet Valley twins, Elizabeth and Jessica Wakefield. The blonde beauties from California had hundreds of adventures and mishaps (and a whole lot of drama) chronicled in several series: Sweet Valley High, Sweet Valley Kids, Sweet Valley Twins, The Unicorn Club, Sweet Valley Junior High, Sweet Valley Senior Year, Sweet Valley University and Elizabeth. Now, we will get to see what is happening in the next chapter in their lives with "Sweet Valley Confidential," which catches the girls at 27 years old and miles apart. What has happened since we left Sweet Valley University? What drove the girls apart?
We had hoped to read the entire run of Sweet Valley High books before "Sweet Valley Confidential" was released, but the books aren't exactly easy to find anymore. The first six books were updated and republished (and available through
CLEVNET
), but beyond that it gets a little more difficult.
Here's a few ways to get pumped for "Sweet Valley Confidential":
-- Cheryl Sadler |
CSadler@News-Herald.com
|
@nhcheryl
and Danielle Capriato |
DCapriato@News-Herald.com