Sweet Valley Confidential cover!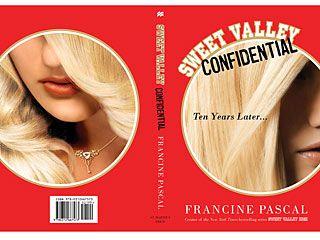 I love the cover for "Sweet Valley Confidential," which was
revealed
this week. Elizabeth and Jessica Wakefield pictured on the front and back, almost like they are looking away from one another. When the book is closed, their backs are to one another. And the red cover surely screams "DRAMA!"
Notice one of the twins is still wearing her lavaliere pendant, which each of the girls received on their 16th birthday. But is it Elizabeth or Jessica? After reading the
first chapter
of "Sweet Valley Confidential," I'm guessing Jessica is wearing the necklace and perhaps Elizabeth has removed hers. If you haven't read the first chapter, (a) that is probably puzzling to you and (b) what are you waiting for?!?!?!
Danielle and I are still only 10 books into the Sweet Valley High series. Might be time for us to hunt down the other 171 books we were hoping to read before the March 29 release of the story about the Sweet Valley twins 10 years later. I missed out on so many of the earlier books that I don't think I will be able to pick up on the happenings of their lives after missing out on so much drama. (And reading the
list of books and descriptions on Wikipedia
surely is proof that there was a whoooole lot of drama in Sweet Valley.)
-- Cheryl Sadler
CSadler@News-Herald.com